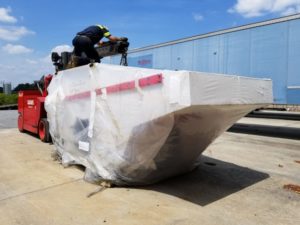 US Plastics Recovery is tripling its plastics recycling shredding capacity with the addition of a Vecoplan 70 HiTorc 250 HP shredder. In a statement on the startup of the machine, chief trading officer Steve Hogan said:
"I am very pleased to see this large shredder in place at the facility. USPR is experiencing increasing demand for industrial plastics recycling. This machine will result in quicker job turn-around and allow us to bring in waiting prospective clients. It brings us to the next step in our plan to triple total company capacity by year-end when a second float/wash machine goes on-line. Our customers are able to use our product at higher proportions than are typical for recycled plastics. Our customers reduce their materials costs by using recycled product rather than virgin resin. We have seen customers use our products at even 100%."
Go to the Vecoplan 70 press release for more information about the addition of this machine.