Toll Processing & Certificates of Destruction
USPR destroys sensitive products and media and issues a Certificate of Destruction for completed jobs. USPR also toll processes polymers and elastomers for the plastics industry. USPR's equipment is designed for both of these services. USPR is an industrial facility and it does no business with the public.
USPR has 6 tolling processes: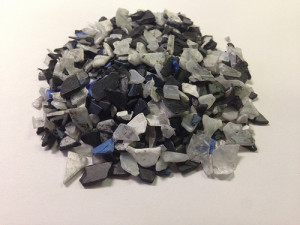 Shredding – From 5/8″ to 2″. We have possibly the largest and most advanced polymer shredder in the South. It is 70″X 84″ with a 20″ rotor adorned with 124 cutters spinning at 250 RPM with 250 HP. It easily runs materials that would destroy other shredders.
Granulation – From 1/2″ to 3/16″ screens. Large knife-hog, closed rotor, and open rotor types.
Magnetic – Removes ferrous steels. All stations have at least one magnetic trap.  Material normally sees 4 to 9 magnetic passes, depending on how many processes are required.
Elutriating (air washing) – Removes powder, dust, paper, feathers, fines, films and other items with low terminal velocities.
Sink-float – Removes PVC, Nylon, wood, cardboard, non-ferrous metals, styrenics, acrylics, POMs, and other heavy items. We can float items up to 1.19 specific gravity to separate them from items with SG above 1.20.
Screening – Separates materials by size: pellets, regrind, wood, nails, strapping, film, talc, powders, etc.
The processes above are able to remove enough contamination from most materials to make them directly injectable or sheetable. These processes can provide a raw material that is cleaner than reprocessed pellets. USPR specializes in the cleaning up of contaminated polymer streams. If you have a contaminated stream, the odds are pretty good that we can clean it up for you. We handle mixed scrap loads from some of the largest molders in the US. Our lab can quickly determine if your stream can be handled by our processes.
Destruction
USPR destroys products and provides destruction affidavits (Certificates of Destruction). USPR has several powerful machine lines and processes in its facility to destroy a wide variety of products to different destruction standards, including various DoD specifications. Prices for certified destruction are based upon the level of security required, the product type, and the required maximum output size.
The destruction process for small particles is accomplished with 2 stages. We first shred the items in our very large high speed shredders and then routes that material to of our very large grinders for further size reduction via cutting and rending. Witnessing is available. We have the capacity to destroy millions of pounds in a single job.
We have experienced, committed, and capable leadership and personnel. We can handle sensitive, complex, large, difficult, and special assignments. If a customer needs equipment we do not currently possess, we have proven internal engineering expertise to quickly modify, procure, or build the necessary equipment to handle difficult and sensitive situations. Tell us what you need done and we will set it up for you. We have additional space available to accommodate jobs in excess of 10 million pounds. We can handle sensitive materials from the following industries:
Military
Defense
Government
Law enforcement
Pharmaceutical
Religious
Political
Legal
Banking
Industrial
Financial
Securities
Banking
Corporate