A major PP compounder saved its pellet plastic floor sweeps until they had a full 40,000 lb. load. They stored the plastic pellet floor sweeps in gaylord boxes with liners. The polypropylene pellet material was contaminated with talc, sweeping compound, sand, rocks, fiberglass, grease, and tramp metal hardware pieces. The compounder contacted US Plastics Recovery regarding the disposition of this material. USPR asked for samples for testing.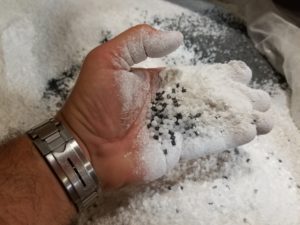 USPR Tests the Plastic Floor Sweeps
The compounder sent samples of the plastic pellet floor sweep to US Plastics Recovery. USPR tested the polymer material in its plastics laboratory. USPR determined that it could turn this near-worthless PP plastic floor sweep into a blended high-izod polypropylene suitable for injection molding. The compounder shipped the material to USPR in Atlanta.
USPR Removes the Contamination
USPR has designed and built a large high-speed factory that shreds, grinds, air-washes, size-classifies, water-washes, and separates plastics and common contaminates.  The floor sweep from this compounder was put through USPR's purification process.  The resulting material had a very high level of strength and purity – enough to go into automobile parts. This particular material went into septic system components. Material to make septic systems components must pass stringent tests to ensure the compression resistance of the final product. Septic fields are often run over by vehicles during and after home construction.