FOR IMMEDIATE RELEASE
Lawrenceville, Georgia – November 20, 2018 – US Plastics Recovery ("USPR"), a leading processor of industrial polymer scrap, announced today that it will quadruple its float-wash capacity to 25MM lbs. per year. For more information on the USPR float-sink purification process, please see this case study.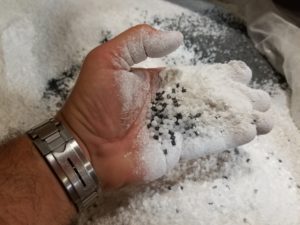 "We are pleased to announce a large planned increase in float-wash capacity at our new facility in Lawrenceville, Georgia. We no longer have to turn away customers needing purification services due to insufficient float-wash capacity," said Chief Trading Officer Steve Hogan. "This new machinery cleans up contaminated floor sweeps and other mixed polymer streams, turning them into molding materials that can be used in applications with stringent raw material quality requirements. We already had existing capacity with this same process. The only difference is now we are able to do much more of it. This increased float-sink capability works well with the tripling of shredding capacity we added earlier this year. Like any tool, it is the skill of user that makes the work. We will have to figure it out."
About USPR
Established in 2006, USPR is a leading re-processor of post-industrial polymer scrap and provider of destruction services for the medical device industry. With its facility just north of Atlanta in Lawrenceville, Georgia, USPR currently processes approximately 25 million pounds of scrap polymer back into quality molding materials suitable as a substitute for virgin plastics for the automotive and other industries around the world. Visit USPR at usprecovery.com to learn more.