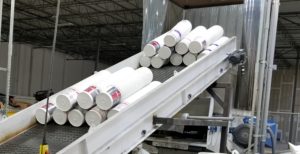 US Plastics Recovery had industry magazine coverage of its recent strategic expansion in the Spring, 2018 edition of Plastics Recycling Update. The "Reclaimer in Focus" article described USPR's new facility located in Lawrenceville, Georgia and the company's investments in equipment and information systems. Over $1MM will be invested in this new location by the end of 2018. The resulting facility configuration will triple capacity over the previous facility.
US Plastics Recovery moved into its 70,000 square foot facility at the beginning of 2018 and immediately added new capacity. The company installed a 62″ Vecoplan high-production plastics shredder and a 52″ Vecoplan machine dedicated to medical device destruction. USPR is increasing its screening and flotation capacity with the addition of two more production lines in the third quarter of 2018. The comprehensive and proprietary IT systems implemented at the last plant gave the company real-time data visibility on production, inventory, sales, margin yield, scheduling, and other critical aspects of the business.
The company is now in possession of significant competitive advantages in the areas of information, cost, throughput, and quality. The capacity addition piles volume on top of the fully operational information systems and quality processes.